Put Your Best Paw Forward
Applying for a job is no walk in the park, whether it's your first job out of school or you're making your next career move. Wherever you are in your career, Banfield Sr. Talent Specialist Suzanne Hinton is full of tips and tricks to help you land your dream job. From making your resume stand out to making the most of your hospital visit, Suzanne's top advice will have you prepared for every step of the process—so you can put your best paw forward.
Tailor Your Resume For The Job
Whether you're sending your resume to a recruiter or a hiring manager, customizing it for the role and company you're applying to will help your resume stand out. Here are Suzanne's top tips for tailoring your resume to make it the best it can be:
Use keywords from the job description to highlight your relevant skills and experience. This will help signal you're a good fit for the job.

Keep your resume short but informative. You want your resume to be 1–1 ½ pages long.

Have an online presence and keep it up-to-date. Many recruiters will check your online profile, so your LinkedIn page should accurately represent your skills and experience.

List any professional achievements, not just your duties from your previous positions.

Make your resume visually appealing. Don't be afraid to use design elements to help you stand out, like including a photo of yourself or even a photo of you with your pet.

Are you a student with limited experience? Don't worry! Companies like Banfield love seeing your community work, including any clubs, memberships, and volunteer work—particularly if it is related to the veterinary space.
Interviews Are A Two-Way Conversation
Come prepared to talk about your skills, your motivations, and the skills you're hoping to develop through your future roles—interviews are your time to brag about yourself. But don't forget, you select your clinic as much as they select you. Ask questions about the team, what kind of support the clinic offers, career paths, work schedules, and more. Here are some of Suzanne's go-to questions and how to ask them:
What does a typical day look like?

Can you tell me about the team I'll be working with?

Are there opportunities for advancement?

What kind of support will I receive in the clinic?

What are the performance expectations for this position over the first 12 months?

What importance does the company place on associates' wellbeing?
These questions and wording will get you the information you need to know if this clinic and role are a good fit for you.
Be Prepared To Meet The Clinic
"What gets my attention in a new candidate is the desire to learn and grow! I'm looking for people who will personify development and personal growth." — Dr. Miriam Harvey, DVM, Banfield Area Chief of Staff.
Hospital visits are the time to show your enthusiasm for the role. Allow your tone of voice, body language, and words to demonstrate your excitement. Listen carefully to the staff as they show you the hospital, take note of anything they mention that you like, and ask for clarifications if you're confused about anything said. And of course, don't forget to follow up with a thank you. A small thank you can go a long way in showing respect for the staff's time and enthusiasm for the clinic.
Most importantly, let your personality shine. You've got this!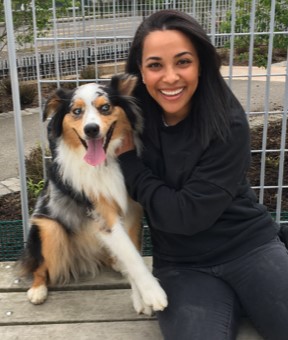 Suzanne Hinton, Veterinarian Recruiter