Veterinarian (Doctor)
Job ID: 00000BQW
Chattanooga, Tennessee;
Credentialed Position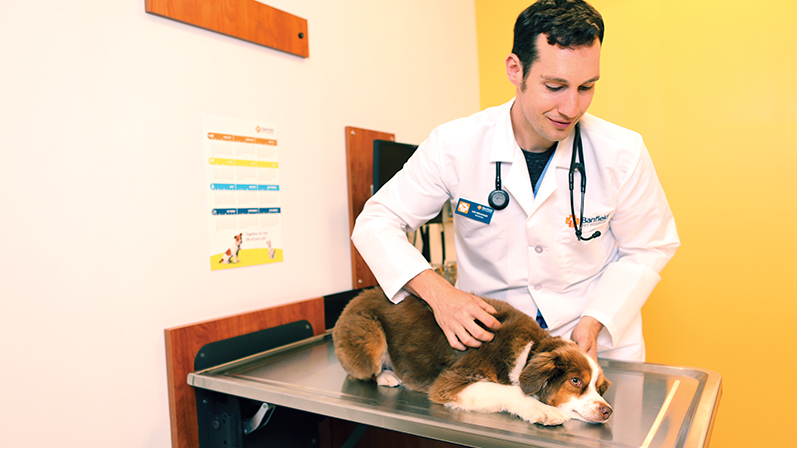 Overview
We believe hiring doctors with diverse perspectives, ideas, and cultures, permits us to deliver to the highest quality of preventive care for each pet and client. Our teams foster an effective veterinary support team by communicating medical standards, ethical practices, and your veterinary knowledge and experience. Each associate holds a responsibility to leverage evidence-based medicine and continue the pursuit of education to deliver quality patient care. Banfield's veterinarians apply their extraordinary passion, skills, and education, at every practice location. We support and depend on our veterinarians to use their expertise in a way that benefits pets, clients, hospital teams, and the communities we serve.
Part Time, Full Time or Locum
Location based sign-on bonus and relocation support
Success Profile
Check out the traits we're looking for and see if you have the right mix.
Adaptable
Collaborative
Helpful
Problem-solver
Quick-thinking
Self-starter
How we care. How we work.
We do it for the same reasons you do. To live our love for pets and pet owners. To continually create better models of treatment. That's what brought us into our hospitals. Now, see how you can put it into practice with each and every visit, whether you're interacting with pets or supporting our network of care.
A Solid Foundation

We are here for you – to help make patients your primary focus. With innovative care models & the right resources in place, we can ensure ongoing training and mentorship.

Freedom to Deliver

This is more than a business, its about life. We are committed to supporting a healthy work/life balance with flexible scheduling & great benefits to enrich your career.

Path to Lead

We want you to find your full potential. As a leader in pet health and wellness, we offer opportunities to do what you love best every day while growing in your career and honing leadership skills.
Career Path
We encourage you to follow your passions, no matter how that looks to you. Below is only one example of how your path could look. Whether progressing into hospital leadership or pursuing a path at our headquarters – we'll have your back the entire way. The opportunities are endless.
Vet Tech

Veterinarian

Assistant Chief of Staff

Chief of Staff

Director of Veterinary Quality

Vice President Veterinary Quality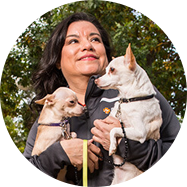 "I love being in the hospitals, but my true passion is developing people. If there is anything I can do to help others fulfill their dreams, that's a privilege, and that's what the role of medical director lets me do."

- Mary Guerra, DVM Medical Director
Benefits
Health and Wellbeing Programs

To help find a healthy balance between work and personal life, Banfield provides associates and their family members with free access to My Health & Wellbeing Resources-- a resource to help make life's challenges easier to navigate. Medical, dental, vision and coverage for life insurance, short and long term disability are also offered to our associates.

401(k) Retirement Plans

Banfield provides a 401(k) Retirement Savings Plan with competitive matching contributions for associates.

Professional Development

Associate development is a critical factor in enabling our Practice to provide high-quality veterinary care. In addition to offering a variety of in-house training opportunities, Banfield provides a reimbursement allowance to doctors for attendance at outside continuing education (CE), including but not limited to educational courses, seminars, and conferences.

Paid Time Off

For when it's time to get away to refresh, eligible associates accrue PTO based on their job, years of service and hours, coupled with holidays each calendar year. Disability plans are also available to support our associates.

Giving Back to Communities

Banfield associates have unique opportunities to give back to the community and live our purpose: A BETTER WORLD FOR PETS. Opportunities include but not limited to: Banfield Pet Academy, Mars Volunteer Program, Preventative Care Clinics and more!

Student Debt Relief

The Veterinary Student Debt Relief Program supports full-time doctors with a monthly student loan contribution, low- interest financing and a Student Programs payment to those qualifying, to help relieve the burden of student debt.
Responsibilities
Veterinarian (Doctor)
Job ID: 00000BQW
Chattanooga, Tennessee;
Credentialed Position
NOTICE OF FILING OF APPLICATION FOR PERMANENT ALIEN LABOR CERTIFICATION
Employer: Medical Management International, Inc. dba Banfield Pet Hospital
Position(s): Associate Veterinarian Openings
Location: Arlington-Alexandria, Virginia Metro Area (incl. Fairfax, VA)
Description: The primary purpose and function of the Associate Veterinarian is to deliver the highest quality veterinary care and an exceptional client experience. The Associate Veterinarian advocates for pets and their quality of life; builds a long term bonding relationship with clients; contributes to the development and maintenance of the human-pet bond; educates clients and hospital associates on all aspects of pet health; mentors and develops an efficient, collaborative and productive veterinary medical team; and improves both the medical quality and business performance of the hospital. Essential responsibilities and tasks include: Diagnosing, treating and controlling diseases and injuries in pets; performing surgery on pets; prescribing and administering drugs and vaccines as appropriate; establishing trust and gaining the confidence and compliance of clients through effectively delivering appropriate preventive care, performing complete diagnostic workups, developing thorough treatment plans, communicating home care instructions, and planning follow-up visits; advocating for preventive care and adoption of wellness plans; assimilating information gathered through effective history taking, physical examination and diagnostic workup to arrive at an appropriate and effective clinical decision; leading the veterinary hospital team through the daily schedule and caseload, delegating tasks to paraprofessionals and improving hospital efficiency; practicing veterinary medicine in a manner compliant with the State Veterinary Practice Act, Federal and/or State Controlled Substance laws and Banfield Code of Ethics, along with appropriate medical record documentation; addressing and resolving client concerns arising from the medical care of a pet; working well with hospital team, peers, field leaders, Central Team Support associates and PetSmart associates; practicing evidence-based medicine and preventive care when data or guidelines exist, using sound judgment when they do not; performing all basic surgeries with appropriate anesthesia, monitoring and pain management; educating clients, hospital associates and PetSmart associates to improve their level of knowledge about veterinary care and husbandry; constantly striving to enhance medical quality, hospital efficiency and hospital profitability; and other job duties as assigned.
Requirements: Client needs and work volume may often require more than 40 hours per week to complete essential duties of this job. This position requires special hours including working weekends and evenings. Ability to travel, possibly for vendor visits and associate education. DVM (or foreign equivalent) andaVirginia veterinary license.
Compensation: Wage offered is $114,000 per year plus production bonuses and usual benefits for 40+ hours per week. Applicants must have legal authority to work in the United States.
How to Apply: Send resume to Medical Management International, Inc. dba Banfield Pet Hospital, Attn: Justine Pillar, Talent Acquisition, 18101 SE 6th Way, Vancouver, WA 98683 or apply at https://banfield.taleo.net/careersection/9/jobdetail.ftl?lang=en&job=FAI0005C
PLEASE ALSO REFER TO BANFIELD'S REFERRAL BONUS PROGRAM ON FETCH
This notice is being provided as a result of the filing of an application for permanent alien labor certification for the job described here. Any person may provide documentary evidence bearing on the application to:
Employment and Training Administration
U.S. Department of Labor
Harris Tower
233 Peachtree Street, Suite 410
Atlanta, Georgia 30303
Phone: (404) 893-0101
Our locations
We're more than just a hospital. We're an entire network of locations, serving pet lovers around the country — and guided by dedicated teams inside our headquarters.