Veterinary Technician
Job ID: R-93760
3780 Riverchase Village, Hoover, Alabama, United States, 35244
Overview
Our Veterinary Technicians are instrumental in helping us do what we do. Everyone, from doctors to managers — and, of course, our pets — look to them for competent, thoughtful care. That's why we commit to giving vet techs the best careers and experiences we can inside all of our locations.

When you share your training and talents with our community, we have so much to give you in return. Our resources can help you develop a future in our network. And through it all, you'll never lose sight of the reason you started — a real love for pets.
Full time and part time
Mid level
Location based
sign-on bonus
Success Profile
Check out the traits we're looking for and see if you have the right mix.
Adaptable
Communicator
Compassionate
Multi-tasker
Leadership
Team player
How we care. How we work.
We do it for the same reasons you do. To live our love for pets and pet owners. To continually create better models of treatment. That's what brought us into our hospitals. Now, see how you can put it into practice with each and every visit, whether you're interacting with pets or supporting our network of care.
Your patients

When a pet family needs help, you can be there, providing innovative care for animals.

Your life

We believe in giving you the support to balance your professional achievements with everything else you are.

Your future

You'll be seeing your patients for years to come. And you can do it with a team that will see you grow into a trusted leader.

Your care

Make wellbeing for you and your family a priority, with our help and resources.
Career Path
We encourage you to follow your passions, no matter how that looks to you.
Whether progressing into hospital leadership or pursuing a path at our headquarters — we'll have your back.
Shift Lead

Credentialed Shift Lead

Practice Manager

Field Director
Empowered to care
In 2019, we gave our pet families the chance to schedule appointments directly with vet techs across all our hospitals.
Learn more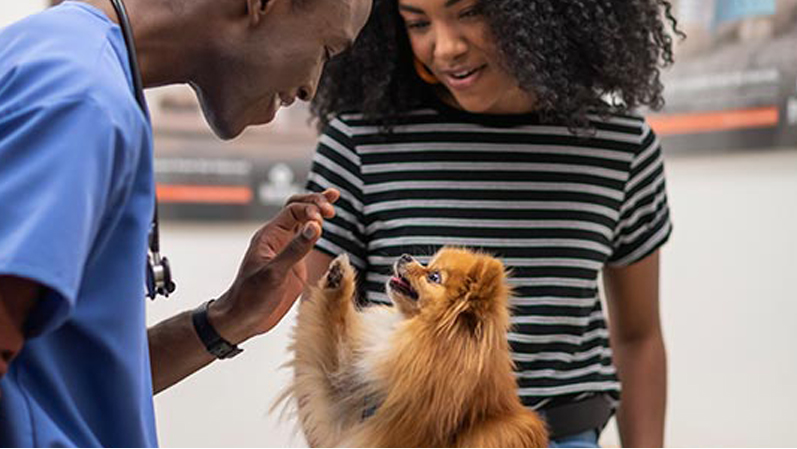 Benefits
Health and Wellbeing Programs

We're here for you and your family, with medical, dental and vision insurance — plus access to other great resources.

401(k) Retirement Plans

Make planning ahead a little easier with competitive matching for our associates.

Paid Time Off

Earn time for yourself and your family with vacation days to use however you want.

Continuing Education

Take advantage of offerings like, 100% practice covered VetGirl subscription, Fear Free certification/ renewal discount, up to $750 every year to keep learning about your field… and more!

Maternity and Paternity Leave

Savor life's precious moments with your family. Enjoy practice paid parental leave.

Work-Life Balance

We make sure all of our associates have the time and energy to keep living life outside of our locations.
Responsibilities
Veterinary Technician
Job ID: R-93760
3780 Riverchase Village, Hoover, Alabama, United States, 35244
The
Veterinary Technician
supports the veterinarians in ensuring q
uality veterinary care for all p
ets,
advocates for
p
ets, educates clients on all aspects of
p
et health, and ensures a safe and effective hospital
environment.
C
APABILITIES AND
E
XPERIENCE
(C
AN
D
O
):
-Ability to multi
-
task
-
Manages multiple tasks at one time; quickly and accurately shifts attention among
multiple tasks
under distracting conditions without loss of accurac
y or appearance of frustration.
-Communication skills
-
Reads, writes and speaks fluent English, using appropriate grammar, style and
vocabulary. Correctly spells commonly used English words and job speci
fic terms. --
Demonstrates
exceptionally strong written and verbal communication skills.
-Organizational ability
–
Demonstrates a systematic approach in carrying out assignments. Is very
orderly and excels at cutting through confusion and turning chaos int
o order.

Problem solving skills
-
Demonstrates a strong ability to identify, analyze and solve problems. ----
Translates problems into practical solutions.
-Client service skills
-
Consistently ensures the team provides the client with attentive, courteous an
d
informative service. Gains and shows personal satisfaction from delivering great service.
-Intellectual ability
-
Accurately and consistently follows instructions delivered in an oral, written or
diagram format. Can provide directions.
-Mathematical abi
lity
-
Ability to add, subtract, multiply and divide, and to compute rate, ratio and
percent; ability to convert units of measurement.
-Computer skills
-
Comfortably and confidently uses a computer and specialized
medical
software,
as
well as
Microsoft Outl
ook, Word
and
Excel.
-Initiative
–
shows willingness and aptitude to
take
appropriate steps in finding solutions to problems;
presents options and ideas to enhance current processes or procedures. Takes on additional
responsibility wh
en both big and small tasks need to be done.
-Integrity
–
Firmly adheres to th
e values and ethics of Banfield
Pet Hospital. Exhibits honesty, discretion,
and sound judgment.
-Cooperativeness
–
Willing to work with others, collaborating and compromising where necessary;
promptly share relevant information with others.
-Flexibility
–
Is open to changing situations and opportunities and is willing
to perform all tasks assigned.
-Independence
–
Able and willing to perform tasks
and duties without supervision as appropriate.
-Tolerance for Stress / Resiliency
–
Maintains a positive "can do" outlook, rebounds quickly from
frustrations and unpleasantness, and maintains composure and friendly demea
nor while dealing with
stressful situations.
S
PECIAL
W
ORKING
C
ONDITIONS:
-Ability to work at a computer for long periods of time.
-Ability to be confident around
p
ets (i.e., dogs, cats, birds, reptiles, etc.)
-Client needs and work volume may often requir
e more than 40 hours per week to complete essential
duties of this job. This position requires special hours including working weekends and evenings.
-Must have mental processes for reasoning, remembering, mathematics and language ability (reading,
writing,
and speaking the English language) to perform the duties proficiently.
-The noise level in the work environment is moderately high.
-Requires sufficient ambulatory skills in order to perform duties while at hospital.
-Ability to stand, walk, stoop, kneel, cr
ouch, and climb as well as manipulate (lift, carry, move) up
to 50
pounds
.
-Requires good hand
-
eye coordination, arm
-
hand
-
finger dexterity with the ability to grasp, and visual
acuity to use a keyboard and operate equipment.
-Specific vision abilities
required by this job include close vision, distance vision, color vision, peripheral
vision, depth perception, and ability to adjust focus.
-Associate is routinely exposed to a variety of
p
ets that may bite or scratch, and on occasion, exposed to
anesthesia
, radiation, biological hazards and medication/controlled substances.
E
XPERIENCE
,
E
DUCATION AND
/
OR
T
RAINING:
-Veterinary technician certification or licensure required (CVT, RVT, LVT,
and LVMT).
Associate's
or
Bachelor's degree
from an AVMA accredited veterinary technology program
,
or the
equivalent combination of education, training and experience that provides the required knowledge,
skills, and abilities
.
High School Diploma
or equivalent preferred
.
-Must be able to perform al
l required skills of AVMA accredited veterinary technology programs at a level
in which to aid in the efficiency of the practice
.
-Must be at least 18 years old to perform duties involving radiography (x
-
ray) and exposure to radioactive
substances.
-
One year
related experience required with customer service preferred.
Our locations
We're more than just a hospital. We're an entire network of locations, serving pet lovers around the country — and guided by dedicated teams inside our headquarters.