Veterinary Technician
Job ID: R-104301
San Diego, California
Regular
Full time
Mid level
Location based
sign-on bonus
Overview
Our Veterinary Technicians are instrumental in helping us do what we do. Everyone, from doctors to managers — and, of course, our pets — look to them for competent, thoughtful care. That's why we commit to giving vet techs the best careers and experiences we can inside all of our locations.

When you share your training and talents with our community, we have so much to give you in return. Our resources can help you develop a future in our network. And through it all, you'll never lose sight of the reason you started — a real love for pets.
Success Profile
Check out the traits we're looking for and see if you have the right mix.
Adaptable
Communicator
Compassionate
Multi-tasker
Leadership
Team player
How we care. How we work.
We do it for the same reasons you do. To live our love for pets and pet owners. To continually create better models of treatment. That's what brought us into our hospitals. Now, see how you can put it into practice with each and every visit, whether you're interacting with pets or supporting our network of care.
Your patients

When a pet family needs help, you can be there, providing innovative care for animals.

Your life

We believe in giving you the support to balance your professional achievements with everything else you are.

Your future

You'll be seeing your patients for years to come. And you can do it with a team that will see you grow into a trusted leader.

Your care

Make wellbeing for you and your family a priority, with our help and resources.
Career Path
We encourage you to follow your passions, no matter how that looks to you.
Whether progressing into hospital leadership or pursuing a path at our headquarters — we'll have your back.
Shift Lead

Credentialed Shift Lead

Practice Manager

Field Director
Empowered to care
In 2019, we gave our pet families the chance to schedule appointments directly with vet techs across all our hospitals.
Learn more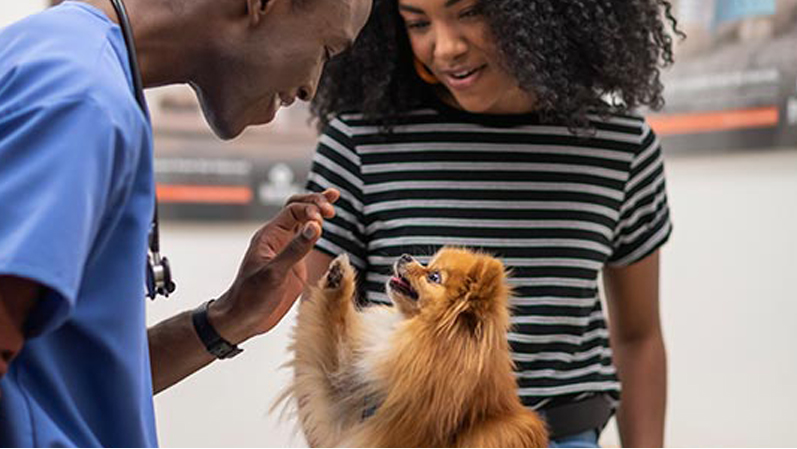 Benefits
Health and Wellbeing Programs

We're here for you and your family, with medical, dental and vision insurance — plus access to other great resources.

401(k) Retirement Plans

Make planning ahead a little easier with competitive matching for our associates.

Paid Time Off

Earn time for yourself and your family with vacation days to use however you want.

Continuing Education

Take advantage of offerings like, 100% practice covered VetGirl subscription, Fear Free certification/ renewal discount, up to $750 every year to keep learning about your field… and more!

Maternity and Paternity Leave

Savor life's precious moments with your family. Enjoy practice paid parental leave.

Work-Life Balance

We make sure all of our associates have the time and energy to keep living life outside of our locations.
Responsibilities
Veterinary Technician
Job ID: R-104301
San Diego, California
Regular
Credentialed Veterinary Technician
The anticipated starting hourly rate for individuals expressing interest in this position is $18 to $33 per hour. Rate to be determined by the schedule, location, experience, skills, and abilities of the applicant.

Who we are
We're Banfield. You've probably seen us around. We started in 1955 as a small practice with big ideas about preventive petcare. We're now the leading general veterinary care practice in America, where providing high quality preventive care and treatment advances our mission: A BETTER WORLD FOR PETS.  We'd love to have you join our team to help in this mission.
We love pets. You know who else we love? CVTs. We enable CVTs to work at the top of their license and provide them resources and training to feel and work their best. A supportive work environment is important at Banfield, and we cultivate a culture and team based on collaboration, networking, and lifting one another up.
Banfield's here for you so you can be there for pets!
Who we're looking for
We're looking for Credentialed Veterinary Technicians (or VTs currently in the process of completing accreditation) to add their passion, skills, and education to our team. We believe in hiring individuals with diverse perspectives, ideas, and cultures, who use their expertise in a way that benefits pets, clients, teams, and communities.
Whether you're a recent graduate or an experienced Technician looking for a change, a new beginning at Banfield means an open door to explore the next best move in your professional career.
Role responsibilities
Provide furry, feathered, and scaled pets with the best possible care, especially preventive care
Build close relationships with pets and the humans who love them
Work closely with teammates and cultivate a positive, dynamic work culture
Impact the future of veterinary medicine with your own expertise and ways of practicing medicine
Exemplify the Mars Five Principles — Quality, Responsibility, Mutuality, Efficiency, and Freedom
What we offer
Now the good stuff! We believe in taking care of our employees so they can take care of themselves, their family, and the pets they treat. We value work-life balance too! Here are just a few of the benefits full-time associates are eligible for:
The good stuff:
Competitive salary with paid time off so you can spend time with the people you love
Medical, dental, and vision insurance for you and loved ones
16 hours of Medical Education and Development (MED) for continuing education
Fertility and family-building assistance
Paid parental leave
Practice Paid Basic Life Insurance
Practice Paid Short- and Long-Term Disability
Competitive referral program – join our team, bring your friends, and get paid!*
Automatic enrollment 401(k) Savings Plan after 60 days of employment with generous company match
Health Savings Account
Mental health support and resources
Paid volunteering
Optimum Wellness Plans® for up to three pets
A variety of discounts including Mars, PetSmart, Royal Canin, fitness, cellular and so much more
Even more good stuff:
Flexible scheduling
Ability to practice at the top of your license
Locations all over the US to choose from
Opportunities for growth and leadership roles at Banfield, Mars, and other divisions of Mars
Dedicated onboarding and development support so you can grow your career (or become a coach yourself!)
Continuing education opportunities paid for by us
Health and well-being benefits to support quality of life
National partner conferences for networking and continuing education
Discount on Fear Free Certification
Practice-paid subscription to NAVTA, VetGirl, and Vetfolio
Associate-led equity, inclusion, and diversity groups (we have 7 of them!)
Awesome opportunities to volunteer through Mars Volunteer Program, like volunteering at coral reef cleanups or on research vessels!
*terms and conditions apply
#registered veterinary technician (RVT) #licensed veterinary technician (LVT) #veterinary technician specialists (VTS) #certified veterinary technician (CVT)
Our locations
We're more than just a hospital. We're an entire network of locations, serving pet lovers around the country — and guided by dedicated teams inside our headquarters.