Veterinarian
Job ID: R-115982
Tampa, Florida
Regular
Full time
Location based sign-on bonus and relocation support
Overview
We believe hiring doctors with diverse perspectives, ideas, and cultures, permits us to deliver to the highest quality of preventive care for each pet and client. Our teams foster an effective veterinary support team by communicating medical standards, ethical practices, and your veterinary knowledge and experience. Each associate holds a responsibility to leverage evidence-based medicine and continue the pursuit of education to deliver quality patient care. Banfield's veterinarians apply their extraordinary passion, skills, and education, at every practice location. We support and depend on our veterinarians to use their expertise in a way that benefits pets, clients, hospital teams, and the communities we serve.
Success Profile
Check out the traits we're looking for and see if you have the right mix.
Adaptable
Collaborative
Helpful
Problem-solver
Quick-thinking
Self-starter
Career path spotlight
Dr. Taneeka Bautista started as an SJP participant and has advanced her way to Director of Veterinary Quality!
Student Job Program

Veterinarian

Chief of Staff

Director of Veterinary Quality
There are many journeys you can choose to take with us - this is just one example! Read more about Dr. Bautista's career journey here!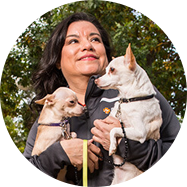 "I love being in the hospitals, but my true passion is developing people. If there is anything I can do to help others fulfill their dreams, that's a privilege, and that's what the role of medical director lets me do."

- Mary Guerra, DVM Medical Director
Benefits
Health and Wellbeing Programs

To help find a healthy balance between work and personal life, Banfield provides associates and their family members with free access to My Health & Wellbeing Resources-- a resource to help make life's challenges easier to navigate. Medical, dental, vision and coverage for life insurance, short and long term disability are also offered to our associates.

401(k) Retirement Plans

Banfield provides a 401(k) Retirement Savings Plan with competitive matching contributions for associates.

Professional Development

Associate development is a critical factor in enabling our Practice to provide high-quality veterinary care. In addition to offering a variety of in-house training opportunities, Banfield provides a reimbursement allowance to doctors for attendance at outside continuing education (CE), including but not limited to educational courses, seminars, and conferences.

Paid Time Off

For when it's time to get away to refresh, eligible associates accrue PTO based on their job, years of service and hours, coupled with holidays each calendar year. Disability plans are also available to support our associates.

Giving Back to Communities

Banfield associates have unique opportunities to give back to the community and live our purpose: A BETTER WORLD FOR PETS. Opportunities include but not limited to: Banfield Pet Academy, Mars Volunteer Program, Preventative Care Clinics and more!

Student Debt Relief

The Veterinary Student Debt Relief Program supports full-time doctors with a monthly student loan contribution, low- interest financing and a Student Programs payment to those qualifying, to help relieve the burden of student debt.
How we care. How we work.
We do it for the same reasons you do. To live our love for pets and pet owners. To continually create better models of treatment. That's what brought us into our hospitals. Now, see how you can put it into practice with each and every visit, whether you're interacting with pets or supporting our network of care.
A Solid Foundation

We are here for you – to help make patients your primary focus. With innovative care models & the right resources in place, we can ensure ongoing training and coaching.

Freedom to Deliver

This is more than a business, its about life. We are committed to supporting a healthy work/life balance with flexible scheduling & great benefits to enrich your career.

Path to Lead

We want you to find your full potential. As a leader in pet health and wellness, we offer opportunities to do what you love best every day while growing in your career and honing leadership skills.
Responsibilities
Veterinarian
Job ID: R-115982
Tampa, Florida
Regular
Doctor of Veterinary Medicine
The anticipated starting base salary range for individuals expressing interest in this position is $102,000 to $170,000 per year for full time, plus production. Base salary to be determined by the schedule, location, experience, skills, and abilities of the applicant. Increased sign-on offerings and relocation support available.

Who we are
We're Banfield. You've probably seen us around. We started in 1955 as a small practice with big ideas about preventive petcare. Now we're the leading general veterinary care practice in America and we'd love to have you join our team.
We love pets. You know what else we love? Vets. We want to make sure our veterinarians feel supported so they can live their best lives AND practice medicine their own way. We do that by surrounding them with talented, passionate teammates and giving them amazing resources that help them stay fulfilled in and outside of work.
Banfield's here for you so you can be there for pets!
Who we're looking for
We're looking for veterinarians to add their passion, skills, and education to our team. We believe in hiring doctors with diverse perspectives, ideas, and cultures, and we support veterinarians who use their expertise in a way that benefits pets, clients, teams, and communities.
Whether you're a recent graduate or an experienced veterinarian looking for a change, a new beginning at Banfield means an open door to explore the next best move in your professional career.
Role responsibilities
Provide furry, feathered, and scaled pets with the best possible care, especially preventive care
Build close relationships with pets and the humans who love them
Work closely with teammates and cultivate a positive, dynamic work culture
Impact the future of veterinary medicine with your own expertise and ways of practicing medicine
Exemplify the Mars Five Principles — Quality, Responsibility, Mutuality, Efficiency, and Freedom
What we offer
Now the good stuff! We believe in taking care of our employees so they can take care of themselves, their family, and the pets they treat. We value work-life balance too! Here are just a few of the benefits veterinarians are eligible for:
The good stuff:
Competitive salary with paid time off so you can spend time with the people you love
Medical, dental, and vision insurance for you and loved ones
Fertility and family-building assistance
Paid parental leave
Competitive referral program – join our team, bring your friends, and get paid!* 
Automatic enrollment 401(k) Savings Plan after 60 days of employment with generous company match
Health Savings Account
Practice Paid Basic Life Insurance
Practice Paid Short- and Long-Term Disability
Liability and malpractice insurance
Veterinary Student Debt Relief Programs- includes monthly contributions for full-time veterinarians, student loan advice, and lump sum contributions for student job program participation
Mental health support and resources
Paid volunteering
Optimum Wellness Plans® for up to three pets
A variety of discounts including Mars, PetSmart, RoyalCanin, fitness, cellular and so much more
Even more good stuff:
Flexible scheduling
Ability to practice autonomous medicine
Locations all over the US to choose from
Opportunities for growth and leadership roles at Banfield, Mars and other divisions of Mars brands
Dedicated coaching support so you can grow your career (or become a coach yourself!)
Continuing education opportunities paid for by us
Health and well-being benefits to support quality of life
School loan assistance through our Student Debt Relief Program
Equity, inclusion, and diversity resources
Awesome opportunities to volunteer through Mars Volunteer Program, like volunteering at coral reef cleanups or on research vessels!
Full Veterinarian Job Description
*terms and conditions apply
Our locations
We're more than just a hospital. We're an entire network of locations, serving pet lovers around the country — and guided by dedicated teams inside our headquarters.