Veterinary Students
Enjoy real-world clinical experiences that will complement and enhance your classroom education.
Thank you for your dedication to improving the lives of pets and their people. Banfield wants to support your education by providing programs, hosting events and offering growth opportunities that help you take your career wherever you want it to go.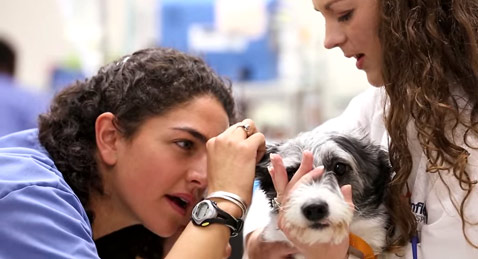 Veterinary Student Job Program
The Student Job Program is designed for veterinary students who want to experience real-world learning in a clinical setting. For 80 percent of the time, you'll work with an experienced veterinary assistant team in one of Banfield's full-service hospitals. Here, you are provided the tools needed to gain confidence in your technical abilities, while developing interpersonal communication skills. The remaining 20 percent of your time is dedicated to pursuing personalized learning objectives alongside your mentor doctor.
Membership
A mentor doctor is assigned to each participant. Together, you will collaborate to determine learning objectives based on your individual educational goals. Feedback and guidance are provided to students throughout the summer.
What to Expect
Under the supervision of your mentor doctor and in accordance with the state's practice act, you will work as a veterinary assistant in a supportive team environment.
Learn how to perform a physical exam
Provide proper veterinary care
Use diagnostic tools and interpret diagnostic materials effectively
Learn surgical preparation and monitoring
Grow your professional interpersonal skills through communication training
Eligibility
To participate in the Student Job Program, you must be a first- through third-year veterinary student enrolled in an accredited doctor of veterinary medicine program; authorized to work in the United States; available for a 6- to 10-week period during your summer break and committed to a flexible schedule of 32 to 40 hours per week, including evenings and weekends. Preference is given to students studying Companion Animal Medicine.
If you want to experience a personalized learning program with a mentor doctor, be introduced to practice management, develop technical and client communication skills and enjoy a competitive hourly wage, the Student Job Program may be the next best step in your veterinary education.
Before you apply for the 2017 Student Job Program, you will need to review the list of host hospitals and make note of your top three locations of interest. The list of host hospitals will be available on this site in November 2016.
Applications will be accepted January 11–31, 2017 . If you are interested in being considered, please be sure to submit your application prior to the deadline.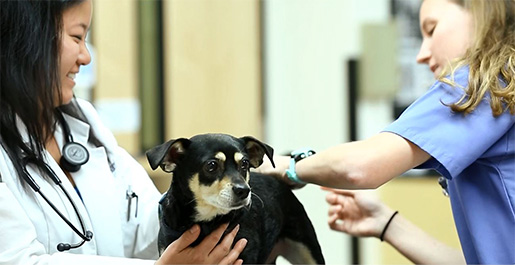 Veterinary Externship Program
Making the transition from veterinary student to working in a professional practice is a big step. Through Banfield's DVM Externship Program, we're here to support you as you move forward in your career. As a student in your clinical rotations, you will get the opportunity to work alongside a team of Banfield professionals and participate in all aspects of patient care. You will be assigned a mentor doctor and work on pre-determined learning objectives. As a student "doctor-in-training" you'll also get an invaluable, realistic look at life as a veterinary professional with client interaction and firsthand experience with modern equipment in a full-service hospital.
The Experience
Participants in the Externship Program experience the typical caseload of a small animal practice. Under the supervision of your mentor doctor and in accordance with the state's practice act, you will:
Gather histories
Perform complete physical exams
Develop diagnostic and therapeutic plans
Scrub in to surgery
Assist in the management of medical cases
Provide wellness care
Develop client communication skills
Polish your clinical/technical skills
Learn Banfield's approach to business
Program Guidelines
Externships are flexible—they can range from two to eight weeks during the year, but are typically two or three weeks in length. Your schedule will be matched with the mentor's schedule and will include days, evenings and weekends. You must be enrolled in an accredited doctor of veterinary medicine program and authorized to work in the United States.
Banfield offers a competitive hourly wage to participants (except where prohibited by school regulation). Placement in the program requires participation in an application, selection and onboarding process. Evaluations will be conducted by your primary mentor doctor at the conclusion of the program.
For questions about scheduling an externship or to view our learning guide, submit an inquiry via email to the Banfield Student Programs team at DVMstudentprograms@Banfield.net. In the request, include your top three locations of interest and proposed dates.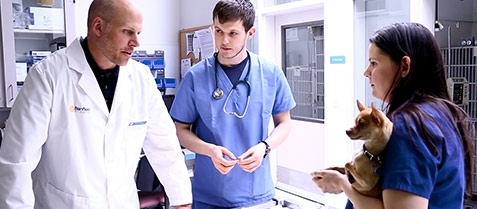 Student Ambassador Program
Banfield's Student Ambassador Program employs veterinary students enrolled in American Veterinary Medical Association-accredited colleges of veterinary medicine to connect their fellow classmates with experiential learning opportunities in Banfield hospitals and act as liaisons between Banfield and their campus.
Major job duties:
Act as liaison between Banfield and your classmates, professors and deans
Partner with your Medical Director liaison to plan campus outreach activities
Execute campus outreach events (schedule rooms, advertise event, manage catering, etc.)
Make information about Banfield available to your classmates
Provide referrals of classmates interested in future careers with Banfield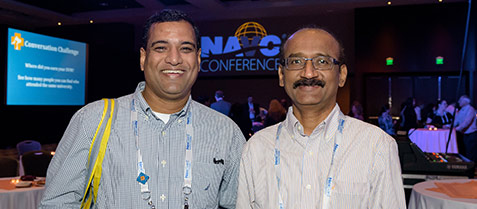 Events
We'd love to connect with you during one of the following academic or industry events.
Campus Visits
Student events are hosted by Banfield at veterinary schools in the spring and fall. To find out when we'll be visiting your campus, talk to your Banfield Student Ambassador.
Conferences
Banfield attends local and national veterinary conferences presented by the North American Veterinary Community (NAVC), Western Veterinary Conference (WVC), the Student American Veterinary Medical Association (SAVMA), American Veterinary Medical Association (AVMA) and the National Association of Veterinary Technicians in America (NAVTA). Please visit these individual sites for information on events in your area.
Pet Healthcare Industry Summit
More than 100 key leaders in our industry come together to discuss issues facing our profession in the annual Industry Summit hosted by Banfield. Attendees include leaders in government, academia, private practice and members of national veterinary organizations.
BARK Team Events/Publications
We are often asked to speak at professional meetings and conferences. At these meetings, we present current research from Banfield's Applied Research and Knowledge team (BARK) on population research, evidence-based veterinary medicine and the use of electronic medical records to advance medical quality. In addition, we publish an annual State of Pet Health Report.