We give you opportunities to do what you do best. As a Banfield associate, you'll enjoy a wealth of resources and support to help you grow—from continuing education and career advancement opportunities across a broad range of fields, to tools you'll need to excel in your Banfield career. Banfield is part of Mars Petcare and together we are a team making a real impact on pet health care in hospitals, communities and the field of veterinary medicine.
Who we are
It's our philosophy to oversee a pet's lifelong preventive health care and wellness every day, while giving you the chance to build bonds with clients. It's a partnership. And when we work together, we can keep their pets healthy.
Our Purpose

At Banfield, we are defining the future of pet health and wellness. It's about helping make better lives for pets, while extending the careers of the people who care for them. And it's a movement we are proud to be part of.

Photo credit: Joseph Kaczmarek

Our Culture

We offer a team-oriented environment where you are valued and your opinions matter. As the world's largest veterinary practice, we have the potential to make a greater positive impact than any other practice. We can only get there with associates fully committed to moving the pet health care industry forward.

Our Principles

Banfield, like our parent company, Mars Incorporated, shares special values called The Five Principles: Quality, Responsibility, Mutuality, Efficiency and Freedom. We are looking for associates who understand that our principles are the foundation of our culture and approach to business.
Wellness & Benefits
We offer a variety of incentives to our associates—from competitive compensation to generous benefits—and ways to help you succeed in your career and maintain a healthy work/life balance.
Additional benefit information for Veterinarians and Veterinary Technicians.
Student Debt Relief
In early November, Banfield will be announcing our new student debt relief program for veterinarians. Follow us on Facebook, Twitter or LinkedIn for updates.
Health
Depending on your role, medical, dental, vision and prescription drug benefits are offered to you and your eligible dependents, as well as health benefits and life insurance for domestic partners and their children. Associates also enjoy the advantages of a Health Savings Account with annual practice-paid funding of $750 to help pay for health care expenses.
Financial
Banfield shares in our associates' responsibility to plan for retirement. All eligible associates are automatically enrolled in a 401(k) Savings Plan after completing 60 days of employment.
Banfield also offers a variety of discounts to our associates including Mars, PetSmart, Royal Canin, fitness, cellular, auto and home insurance and education savings.
Insurance
Banfield offers all full-time associates basic group life insurance with automatic enrollment after completing 60 days of employment. Basic life insurance is 100% practice paid, with an option to purchase associate additional life, spousal/domestic partner life and child life.
Full-time associates are automatically enrolled in short- and long-term disability after 60 days of employment and Banfield pays 100% for the coverage. Our veterinarians are provided liability and malpractice insurance.
Pet
Providing pets with the highest quality medicine starts with a strong foundation of preventive care. Optimum Wellness Plans (OWPs) are fundamental to our practice and we offer free enrollment to our associates for up to three pets. We encourage our associates to use our hospitals, build and strengthen relationships with our practice and understand the value of OWP services.
Well-Being
Banfield is more than a business—it's about life. While we focus on helping pets live healthier lives, it is also important we focus on associates' well-being. Incentives include paid time off/holidays and lifelong learning resources such as an annual continuing education allowance, on-site training, professional development and unique career paths. With work-life balance in mind, there is no after hours on-call duty and our associates enjoy flexible and part-time schedules. For our doctors, we also offer relief opportunities.
Free and confidential access to the LifeBalance Associate Assistance Program is available to all associates and their families. It's a resource designed to help you manage whatever challenges you are facing, whether it involves dealing with stress, caring for older relatives, making ends meet, parenting, managing finances and more.
Please note that the benefits package may vary by legal entity, status or position. This summary is not a guarantee of benefits and all plans are subject to change.
Diversity & Inclusion
At Banfield, we strive to build an inclusive workplace that engages the voices and insights of all of our associates.
We strongly support and value the uniqueness of all individuals and promote a work environment where diversity is embraced. All qualified applicants will receive consideration for employment without regard to race, religion, color, national origin, sex, sexual orientation, gender identity, age, status as a protected veteran, or status as a qualified individual with disability.
WORK ENVIRONMENT
Working toward a common goal is essential to our success in helping clients and their pets. It's all about teamwork and collaboration.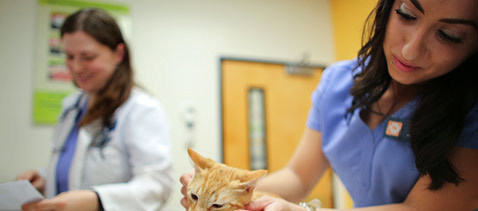 Photo credit: Joseph Kaczmarek
Hospitals
Banfield hospitals are well designed, modern and equipped with current veterinary medical equipment. Exam rooms have the tools our teams need to conduct a basic physical exam, while in-house diagnostic equipment is used for analyzing samples to give clients' pets a truly comprehensive exam. Each hospital has state-of-the-art equipment that lets us do everything from surgeries to high-speed dental cleanings and digital radiology. To see inside a few of our locations, check out our profile on The Muse.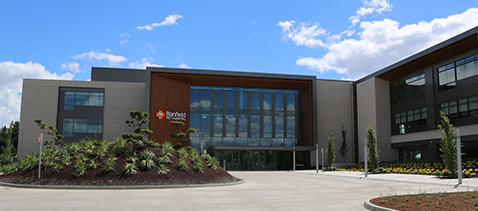 Headquarters
Banfield's headquarters is located in a brand new, 20-acre campus in Vancouver, Washington. Our innovative office space provides you work-style choices to help you balance focused work with collaborative opportunities. We value the open office environment and consider it key in driving a culture of accessibility and openness. Examples of the new spaces include small meeting rooms with video conferencing capability, collaborative and focus rooms, huddle spaces and individual workstations.
Our building is not just dog friendly, but safety conscious for both pets and associates. Our newly launched responsible pets-in-the-workplace program ensures that your four-legged friends, and everyone around them, are safe and comfortable.
Education & Support
We want you to find your full potential and as a global leader in pet health and wellness, we offer room to grow.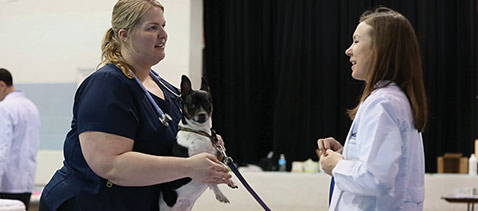 Engaged, inspired associates make everything we do for pets, pet owners, the community and the veterinary industry possible. We are committed to our associates' growth and learning potential and offer opportunities for continuing education, networking and access to Banfield veterinary research and resources that support a variety of career paths. Investing in you and supporting your personal and professional growth and development is important to us.
Career Development
Your progress matters.
We have the resources and programs to help pave the way to your career success. You'll have the opportunity to make a better world for pets, while working with a growing company that offers numerous training and development opportunities to help you succeed.
At Banfield, we take pride in hiring passionate associates who want to be a part of something bigger. Maybe you're a recent graduate looking to start a new career or an experienced professional looking for a change. A new beginning at Banfield means an open door to explore the next best move in your veterinary career. We are committed to helping our associates grow by providing a culture of Associate Engagement; individualized performance development plans; medical, operational, behavioral, cultural and leadership learning; continuing education opportunities and mentorship experiences along with other ways to give back to the profession.