We're Letting the Cat Out of the Bag:
Announcing the NextVet Class of 2022
Drumroll, please! We've selected our inaugural NextVet class, and we think they are the purr-fect fit for the immersive veterinary internship experience of a lifetime! The paid position gives 15 lucky high school students the chance to learn first-hand about the veterinary profession from Banfield's passionate and dynamic hospital teams. Our NextVet interns will have the opportunity to interact with and learn from some of the nation's premier practice leaders and industry experts who are reshaping the industry in alignment with one core purpose: A BETTER WORLD FOR PETS.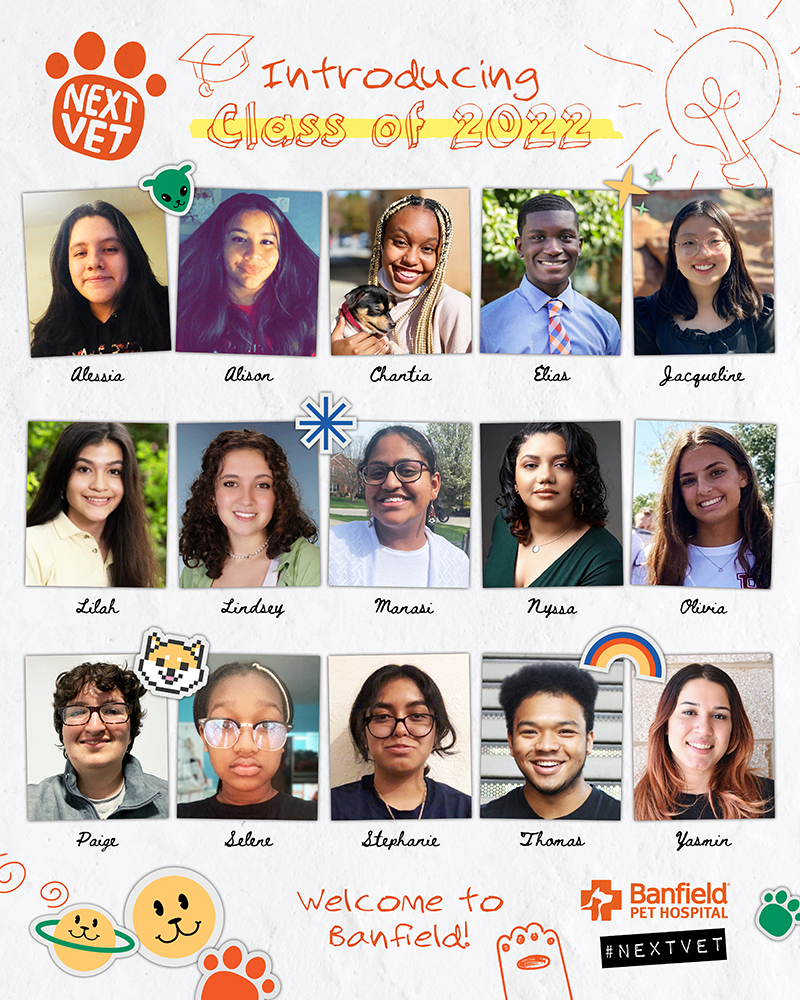 The NextVet internship isn't your traditional coffee running, paper copying office gig. Our class of 2022 will be right in the heart of the action, shadowing exciting positions like veterinarians, credentialed veterinary technicians, and more. They will also come together virtually in regular small group sessions to discuss the latest innovations on the horizon for veterinary care and explore how roles like research and shelter medicine are helping transform the industry. From local doctors to market leaders and Banfield's senior executives, our inaugural class of NextVet interns will have opportunities to connect with influencers across the full veterinary spectrum.
Want to learn more about opportunities at Banfield and get updates on all the cool stuff our NextVet interns are experiencing? Follow along with #NextVet and on Instagram @BanfieldLife!
Want to apply?
Applications are currently closed. To be notified when applications for Summer 2023 are open, please fill out the contact form below.