Banfield Pet Hospital began delivering quality care to pets in 1955. Today, we are more than 930 hospitals strong, and as the largest veterinary practice in the world, we are unique in our ability to offer not just world-class health care to pets, but also meaningful life-long careers to our associates.

Quality Medicine
At Banfield, we believe every pet is entitled to receive the highest quality veterinary care, powered by clinical diagnostics, therapeutic analysis and the latest medical evidence. We accomplish this with partnership, knowledge and support.

Our Philosophy
All of us at Banfield share a common goal: providing high quality preventive health care for each pet, and partnering with every owner to ensure they have the resources to care for pets at home.

Commitment to Corporate Social Responsibility
We not only have a responsibility to the pets we serve, but also to the communities in which we practice, to the people who work in our hospitals and to the broader veterinary profession.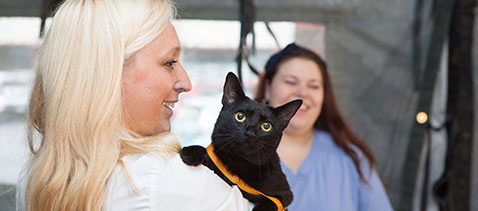 Photo credit: Jeff Hinds
Veterinarian
Join us and be a part of a respected and dedicated network that shares your passion for pets. We believe that together we can practice quality medicine and make a difference in the lives of pets and their families. As a doctor in our hospitals, you will be on the frontlines of our business, serving as the face of our veterinary practice. We'll give you the tools you need to do the best job possible—from resources and education opportunities to mentors and advisers, we keep our doctors at the forefront of veterinary care.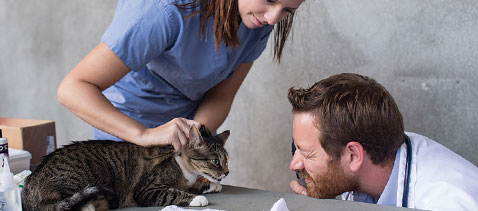 Photo credit: Sam Forencich
Veterinary Technicians
Banfield employs talented paraprofessionals all over the country. Both veterinary technicians and veterinary assistants support our veterinarians in ensuring quality care and maximizing their productivity. Veterinary technicians/assistants maintain medical charts, complete preparatory procedures for veterinarians and ensure that pets and their families are comfortable in the hospital.