Supporting Associate Wellness in Los Angeles
When associate veterinarian Dr. Laura Russey, DVM, isn't at work providing the pets of Los Angeles quality pet care, she's busy taking advantage of exploring all the city has to offer. A believer in the importance of supporting health and wellness, Dr. Russey is sharing her tips for prioritizing mental health and finding moments of fun and levity throughout the day. Learn more.
Walk us through your journey with Banfield?
My journey with Banfield began as a second-year veterinary student in the Student Job Program (SJP) in Brea, CA. As an SJP participant, I gained hands-on experience developing essential clinical skills while learning under the guidance of an incredible team who shared my passion for quality veterinary medicine and preventative care. When the time came to decide where I wanted to practice veterinary medicine, joining Banfield Pet Hospital was an easy decision. As a recent graduate, I received invaluable support, encouragement, partnership from my incredible Director of Veterinary Quality and the amazing associate veterinarians at Banfield Pet Hospital of Chino Hills, Upland Town Square, and Corona.
I am proud to be an associate veterinarian with Banfield Pet Hospital for a little more than two years now, practicing quality medicine with the support of an extraordinary team and network of fellow associates.
Outside of work, what are your favorite activities to do in the Los Angeles area?
As an individual who has lived most of my life in the Midwest, I really wanted to take advantage of the opportunity to explore the Los Angeles area! California has an incredibly diverse ecosystem, and I've enjoyed every ounce of time spent hiking and exploring the great outdoors, from the many beautiful beaches to the snowy mountains and sunny desert climates. Some of my favorite activities in the Los Angeles area include visiting Disneyland and Universal Studios, exploring new restaurants, and enjoying experiences such as whale watching and visiting the San Diego Zoo. Ultimately, building and sharing memories with my friends, family, and loved ones are my most treasured activities.
What does a typical day look like for you, inside and outside of work?
Whether I am at work or outside of work, I try to have fun. Discovering moments of fun and levity, inside and outside of work, not only allows me to remain inspired and enjoy doing what I love but greatly reduces stress and keeps the entire team engaged. Stressful moments occur every day, especially in our profession. By taking the time to relieve and manage stress in positive ways, you can transform your day. There is power in positivity and power in laughter—sometimes laughter is truly the best medicine.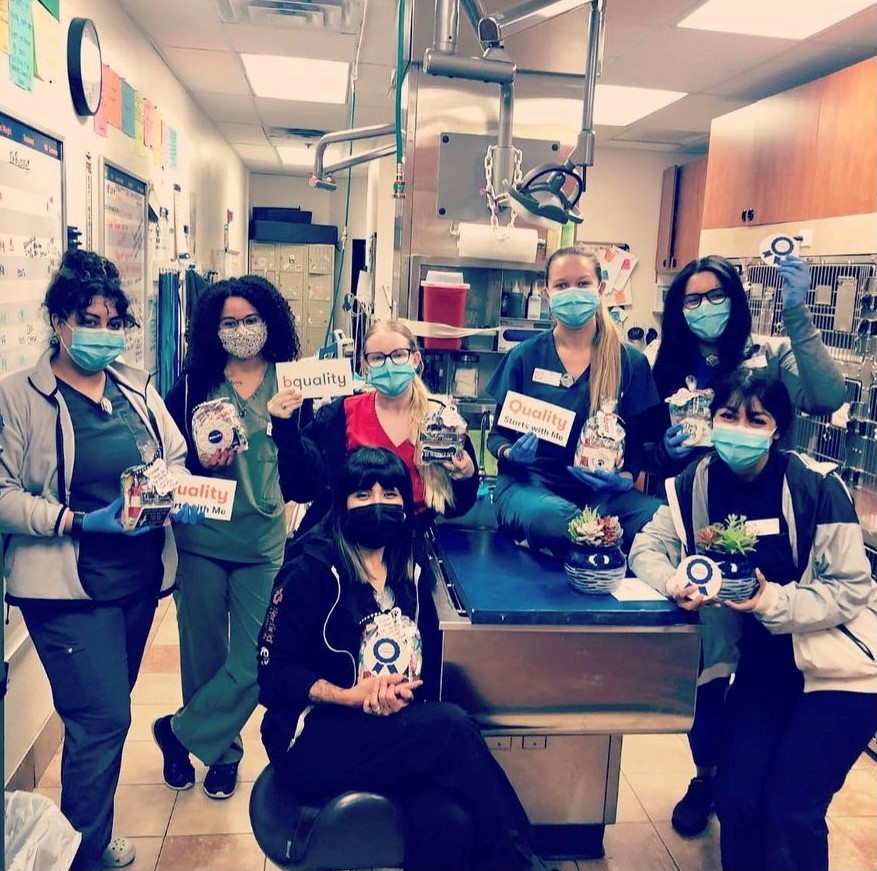 What do you like about the culture at Banfield?
There are many things I appreciate about the culture at Banfield. Banfield has a wonderful, supportive network of associates who are champions of quality and safety. Banfield's commitment to diversity through Equity, Inclusion, and Diversity (EID) community groups such as POWER, Women of Banfield, Banfield API, Banfield Pride, Unidos, and NextGen are great groups for associates to remain engaged in areas that intrigue them most. Banfield also supports growth and offers associates the opportunity to continue their personal and professional development with specific, measurable goals.
How does the field support their associates' health and wellbeing? Do you have any specific practices that are encouraged?
Banfield goes above and beyond to support their associate's health and wellbeing. Fetch has incredible resources to help support a healthy body, mind, finances, career, and community. One resource I love to take advantage of is Headspace, a mindfulness app that offers plenty of mediations and workouts to reduce stress. Through a partnership with Springhealth, associates can complete a comprehensive mental health assessment and receive confidential support from a licensed mental health professional. Associates can even obtain legal advice and wellness coaching. Each hospital associate participates in essential ASK (Assess, Support, and Know) training, which helps associates learn how to recognize risk factors and warning signs of suicide and depression and support fellow associates who may be experiencing emotional distress.
I would strongly recommend each associate take advantage of the Stress Resilience Webinar available on FIDO MyLearning/Banfield University. Enrolling in this webinar helped me learn how to better recognize and manage stress and it provided tools I can utilize to transform stress into resilience at work or home. My team loves using the Calm for Chaos Cards during our huddles to promote a positive intention for the day. Prioritize your mental health, find what restores you, and help bring balance to your life. For me, spending time in nature, reading, journaling, meditating, and spending time with my pets and loved ones helps bring inner peace into my world.
What advice to have for those just starting their career in the veterinary industry?
My advice to those just starting their career in the veterinary industry is to prioritize their mental health and wellbeing. Find moments that inspire you or touch your heart and try remembering them or writing them down. Be present, be engaged, keep learning and growing. Never be afraid to ask for support and readily give support to your team. Learn from your mistakes, and use them as stepping-stones instead of carrying them with you. Find joy in each day and laugh at the silly moments life brings. Embrace the challenges and believe in yourself. Be proud of your achievements and honor your commitment to patient safety and quality care with every decision you make. And finally, invest in a lint roller!