Big Dreams, Hard Work, and Help Along the Way Lead to Career Success
Dr. Mary Guerra has never shied away from change, or challenge. As field director for Banfield's Dallas-Fort Worth North market, she has helped hospital teams work through unprecedented power outages and disruptions from severe winter storms, while simultaneously navigating the uncertainty of operating safely during a global pandemic.
Fortunately for her — and the pets and people she supports – operating out of her comfort zone is Dr. Guerra's sweet spot. Her hard work, ambition, and collaborative nature have helped her grow and succeed at Banfield — as a chief of staff, a medical director (now director of veterinary quality), and now as field director.
"I joke I'm trying to hold every position I can in Banfield! I've been very lucky to grow as a doctor here," Dr. Guerra said.
She credits Banfield's emphasis on coaching and mentorship for supporting her career development. "I knew that I wanted to be in leadership and learn more about leadership. My field leadership listened to those desires and made sure I got the exposures to really set me up for those roles," she explained.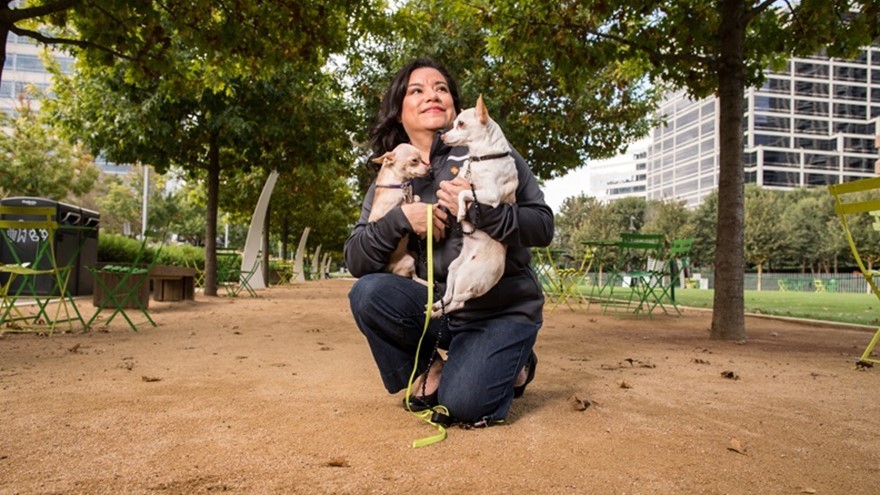 Dr. Guerra's Top Tips for Creative Career Growth at Banfield
Take initiative to find success: "Be proactive about your career and what moves you want to make in that career."
It's okay to be uncertain: "That doesn't mean you have to know 100% this is where I want to go. There has to be some searching in that."
Keep exploring new possibilities: "Don't think that you have to be pigeonholed into one thing. It's ok to work at something and do well with it and [then] think, I might be good at this too."
You don't have to be the best at it – yet: "[Get] super comfortable not being comfortable… Just challenge yourself a little. It's ok to try things. If you fail, that's ok, too. But you may just be a success, so give it a go."
Dream big and hold the vision: "Know where you want to end, and that's where you start making your plots and your plans to get there."
Be declarative and share your goals: "The best way to let people help you is to let them know what path you're on and what path you want to take."
Your leaders are your best allies: "This company is interested in developing people in their career paths. Everyone here is, I think, very willing to participate in the development of others…. Take advantage of it."