How This Designer, Pet Lover, and LGBTQ Advocate Found a Workplace That Welcomed Her Whole Self
Ten years ago, while visiting friends in Portland, OR, Michelle Slater-Young passed the headquarters of Banfield Pet Hospital and thought, "Wouldn't it be great if we moved to Portland and I worked for Banfield?'" Three years later, that's exactly what happened. Slater-Young has spent the past six years heading up the company's creative services department, where she's charged with creating assets like signage, advertising, and communications materials, ensuring that they are in line with Banfield's brand.
For animal lover Slater-Young, getting the job at Banfield felt a bit like kismet. Working there also feels a lot like family, she says—not only because of her close connections to coworkers, but also because of the company's strong support for LGBTQ rights and commitment to diversity, equity, and inclusion. Slater-Young has played a major role in those efforts, even founding and co-chairing the company's Pride Network.
Here, Slater-Young shares how she promotes diversity in the workplace, the creative campaign she's proudest of, and what it takes to make it in the design world.
Tell us about your career journey and what led you to your job at Banfield. What attracted you to Banfield specifically?
I attended Clemson University and got my BA in architecture with a minor in Japanese. I then received my Master of Science in graphic communications. After finishing my formal education, I cut my teeth as a designer at different agencies and in-house marketing teams.
I went from designing to managing creative, then went on to also become a people manager. This is the part of my role I really treasure, as I've taught various design and art direction classes at the college level.
Before Banfield, I worked as a Creative Director at Google and taught at the Art Institute of Silicon Valley. I was attracted to Banfield because I believe in our shared purpose: A Better World for Pets. I love animals. My husband and I have two rescue cats and a rescue dog, and they are like our children.
What do you like best about the company culture at Banfield?
I love how Banfield is focused on equity, inclusion and diversity.
I am the co-chair of the Pride Network (one of our six Diversity Resource Groups, or DRGs) and I appreciate how everyone at Banfield is encouraged to be their authentic selves. Banfield was the first company that I came out to as bisexual, and I would never have done that if there were not such an inclusive culture here.
What are you responsible for in your role?
I lead a team of designers that are responsible for much of the visual creative that comes through the marketing team as well as many other internal teams in the practice. We create work like hospital signage, web design, advertising, animation, and communications materials. We also ensure that all visual creative is in line with the Banfield brand. I'm also a player-coach in that I manage the team, but I still work on projects.
What are you working on right now that excites or inspires you?
My work with the Pride Network and the Equity, Inclusion, and Diversity program are what I love the most. I'm passionate about our mission of elevating the veterinary LGBTQ+ community to create a safe space for support, development, and networking while allowing for advocacy and activism through events and industry partnerships.
You've been at Banfield for more than six years. What has kept you at the company? How does Banfield support employee growth?
I love what I do at Banfield, and I love the culture. My design team and the Pride Network are what get me up in the morning. My team is like my work family, and I appreciate their hard work and attitude. Mars, Inc. in general is very supportive of associate development. [Editor's note: Banfield Pet Hospital is a division of Mars, Inc.] We're encouraged to find areas for growth and work on them throughout the year. In my six years at Banfield, I've arguably grown more in my profession than in the previous 14 years of my career.
Tell us about your involvement in Banfield's Pride Network Diversity Resource Group.
I've been with the Pride Network from the beginning—I helped to create the group. I'm now the co-lead of the Pride Network. As co-lead, I help to develop, manage, and strategize the direction and activations of the group. I work very closely with our Culture Committee. They focus on things like social media, monthly meeting education sessions, and activations out in the field.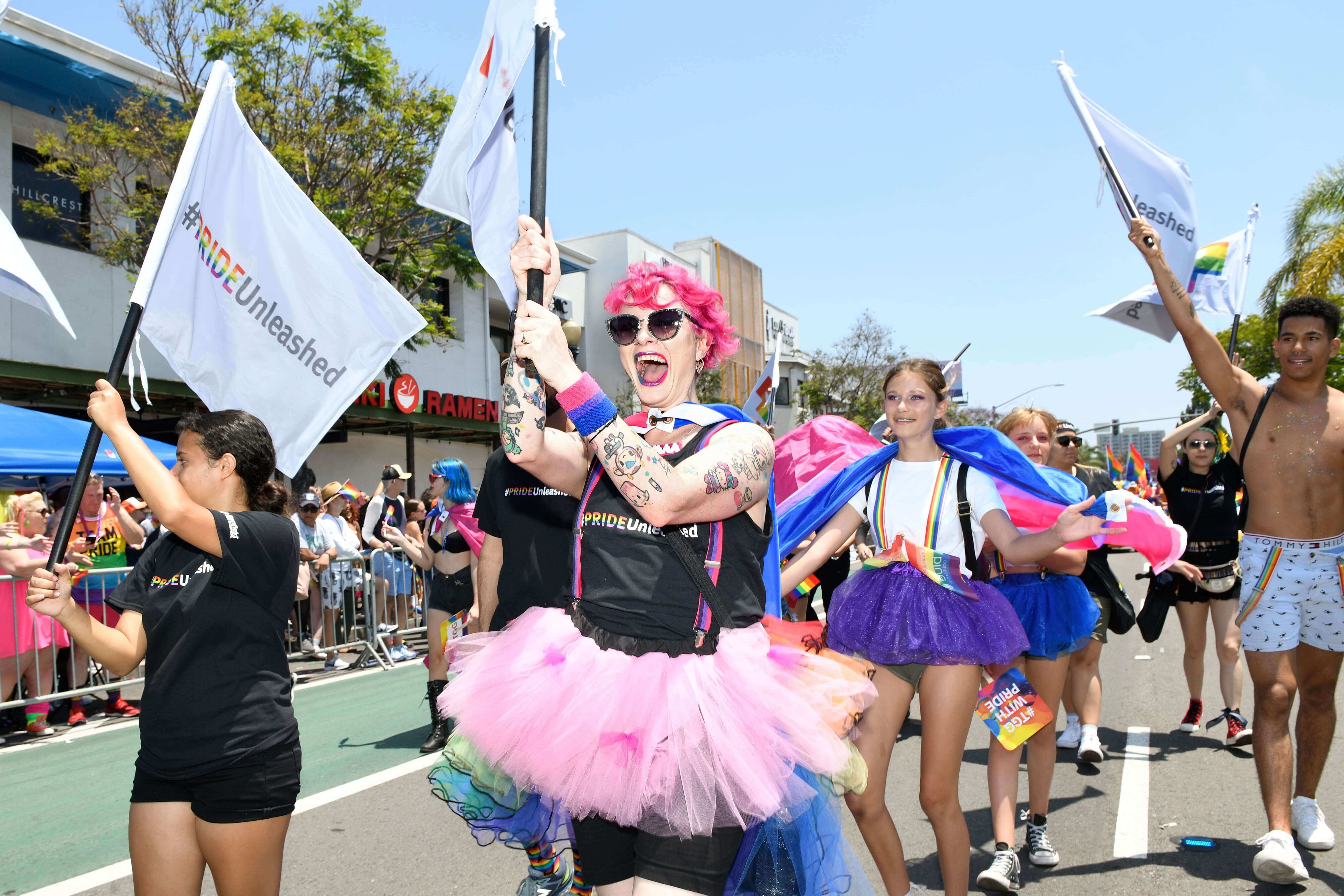 Besides DRGs, how else does Banfield support equity, diversity and inclusion?
This is best answered by our EI+D pledge and focus statements: Banfield is a community of people characterized by diversity of thought, background and approach, bonded together by our commitment to healthy associates and our shared purpose: A Better World for Pets. Our pledge is to create an inclusive environment where all associates can be themselves so that we can find value in our differences.
Building a strong culture of inclusivity on a foundation embedded in our Five Principles (Quality, Responsibility, Mutuality, Efficiency, and Freedom) where people feel a sense of belonging and want to start, stay, and grow at Banfield is integral to the success of our associates' ability to realize their full potential and do their best every day so they can provide high-quality, innovative care for pets when and where they need it.
What creative campaign are you most proud of and why?
A couple of years ago, I led the visual rebrand of the practice—a huge project, as you might imagine, one that took extraordinary time and effort. It involved updating fonts, colors, layouts, photography styles, and illustrations. We put on two major photo shoots to build our new image library for the new direction of the brand. Concurrent with this, I also helped to develop our new brand guidelines. The new visual direction was very well received and has been rolled out nationally in our hospitals, advertising, social media, emails, website, and internal and external communications.
What skills or traits do you need to succeed in your field?
Be persistent and willing to continuously learn new skills. The design profession is extremely saturated and competitive. You will need to have an advantage over other candidates, so the more creative mediums you know, the better. It is no longer a specialized industry. You will need to have skills in digital, web, and print, but if you know animation and video, it's a real leg up. You not only need to be creative; you also need to be flexible and patient to overcome difficult situations that often arise from being in a service profession.
What advice would you have for someone who wants to follow a similar career path as yours?
Here is the number one thing I used to share with my students—my client service philosophy: It is helpful to be humble and remember not to take criticism of your work personally. You work in a service field and need to make sure that your clients are happy with the work that you do. The balance of presenting your expertise and compromising to the client's requests can be challenging, but ultimately you are there to meet the needs of the client since they are the ones paying the bills. There are many designers and agencies out there, so if a client finds you difficult to work with, they will go somewhere else.